Hey, there my little foxes!
I thought I would let you all in on the best band out there today.
They are my friends, Monster Eats the Pilot.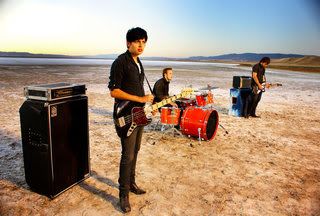 They are an AMAZING alternative rock band that has played with some big names(including Nico Vega and the 100 Monkeys, yes that is Jackson Rothbone's(Jasper from Twillight) band), at some popular venues(The Viper room in LA, The Key Club in LA, the Knitting Factory in LA, Bottom of the Hill in SF.) I love them, and this is coming from a girl who really can't stand modern music. (I'm mainly a 60s folk and rock fan.)
YOU WILL LIKE WHAT YOU HEAR. So please, check them out! They just released their EP, "As the World Collapsed" and you can listen to it here-
http://www.myspace.com/monstereatsthepilotmusic
Become a fan here-
http://www.facebook.com/album.php?id=121787835762&aid=138709&s=20&hash=e91a5c91b24dba2a97585159f1caadc4#!/pages/Monster-Eats-The-Pilot/121787835762?ref=ts
P.S!
Monster is currently in a contest to open up for Aerosmith!
Your vote would greatly help! Thank you!
http://kzoz.upickem.net/engine/Details.aspx?p=V&c=19160&s=4373525&i=1&m=X#SD
<3