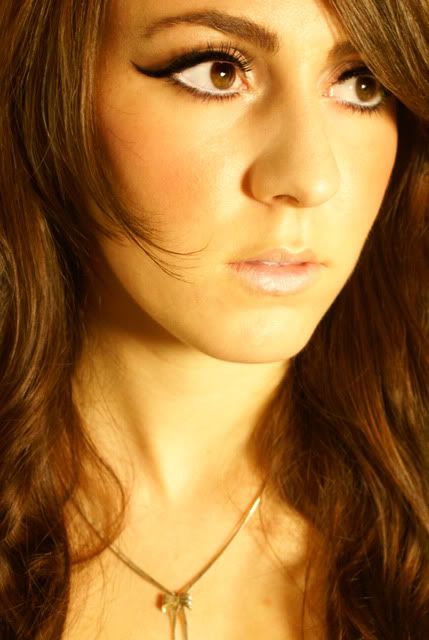 This, minus the lips and white liner, is basically my everyday makeup. I use brown shadow and liner to make my brown eyes deeper, but black makes this look more dramatic.
Here are my steps to a brown, Mod look -
1. Cover face completely with concealer and foundation
2. Swirl pink, rosy blush on cheeks, concentrating on making cheek bones pop.
3. Curl lashes just at the base
4. Cover lids with a shimmery, pearl shadow. Sweep it over your brow bone and the corners of your eyes
5. Use a light brown base just on lids
6. Take a dark brown shadow and cover only half your lid, pulling it slightly out past your eyes. Also take a slanted brush and fill in your lid crease with dark brown
7. Using a dark brown liquid liner, draw a thin line from your tear ducts, sweeping it out past your eyes in a "wing" like motion
8. Next wick on lots, and I mean lots, of mascara (I always use Lashblast). Make sure to really get all the bottom lashes
9. Lastly, find a smooth, white pencil liner for the waterline of your lower lash
Instructional video coming soon!